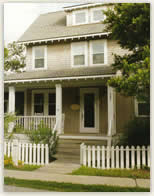 Living on Turtle Time
The leisurely lifestyle of the island is also a big draw for Whale Head Way residents Cathy and Peter Kane. "We used to go to the Outer Banks, but it seemed every summer to be more crowded and congested," said Peter.
Knowing they were looking for an alternative, a friend suggested Bald Head Island. Following Internet research, the couple brought their three children for a Christmas vacation to Wilmington in 2003 and took the ferry to Bald Head Island for the day. They enjoyed it enough to return as soon as possible.
"We also wanted to see the island in the summer since we were concerned about crowds. So, we rented a home in April of 2004 that allowed pets. We loved it. It was wonderful," said Cathy. The kids were thrilled that they could swim in the ocean, although it was only April.