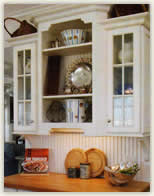 Busby Kitchen
Jim and Kathy Busby didn't have to look far to decorate their new home in Wrightsville Beach. In fact, they only had to look as far as the view from any of their windows, where a sweeping expanse of sand and surf greets them all the time. That view, according to Jim, dictated the design of their kitchen, as well as the adjoining living area.
"The house is oriented to take advantage of the view," Jim says. "Not [just] if you're sitting in the right seat facing the right direction, but when you're fixing coffee, you have a view; when you're getting toast, you have a view."
Kathy agrees. "We wanted the view to take over, not the furnishings.