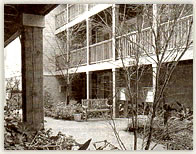 Developer, Mike Hackeling, of Courtyard Development LLC, used modular components in the 30-unit Courtyard Condominiums on Red Cross Street. Mr. Hackeling, who has experience in stick building as well, said the quality was very good. "They're very solid. The cost savings isn't really there in a hybrid project like I've got, but the savings are strong on a turnkey."
There are three levels on his project and prefabricated concrete elements were used for the basement level and foundation. These high-density concrete panels had the window openings already cut and add structural sturdiness.
Mark Andrew Saulnier; architect and owner of Architecture and Historic Preservation, is well acquainted with system construction.
The personal home he is building, has modular components enhanced by design amendments.