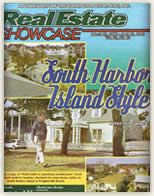 To the untrained eye. South Harbor Island seems to offer a plethora of architectural styles. Well, in a way it does. However, to the purist, the architectural styles have been changed and modified to the point they no longer are one true style.
One house may reflect two, three or even four different styles — Victorian porch accents on a ranch, or a central por­tico or decorative door surround, reminiscent of the Colonial Revival period.
As new owners purchased these beach homes over the past decades, they added, took away and modified the structures until many of them became something of a melting pot of architectural styles. In a way, this eclecticism of style defines South Harbor Island and contributes to its charm and popularity.
Harbor Island is that chunk of land between the two bridges to Wrightsville Beach. One of its